Creative ways glass branding can express your brand? To us your office environment provides a great opportunity and medium to increase your brand awareness, promote productivity in your staff and create that atmosphere your business seeks to create. Glass is being used to give the appearance of openness. There is so much to love about Glass signages, its diversity and uniqueness. You are never limited. Glass Murals can either be subtle or stylish. Using printable frosted vinyl's to cut out shapes windows and glass partitions will look both professional and conform to workplace safety standards.
Glass signages can be found and used at the company reception area, lobbies, airport reception areas, and serves as way-finding signs in hallways and entryways. Glass signages blend in well with just about every type of interior design and color. They can be easily installed onto any wall surface and are available in different sizes, shapes, thickness, colors and branding styles depending on your needs.
Our Glass signage can be a regular clear glass or come with a frosted finish. They are long lasting, durable and leave a lasting impression. A frosted glass usually has a semi-opaque or translucent look and can be used in a variety of ways that are functional, offering privacy, unique, decorative and stylish. Your company logo or design pattern can be placed easily on any area of the glass, it's easy to install and gives you enough view to see into the next workspace.
In ordering your glass signages from printfactory you are guaranteed of safety, our glass signs are tempered (toughened). Having a tempered glass ensures your signs are not easily damaged or scratched; they are thicker and stronger than your normal glass.

Glass clamps and mounting studs
PROPERTIES
a. Durable & Long Lasting – Glass signages are designed to withstand any weather, so if you decide to place them inside or outside your business premises, they are sure to remain standing and lasting.
b.Stylish – Glass signages do not go out of style and can serve your business for a long time. It is a great idea to use glass for signs because they do not need to be changed often. The background can be a clear glass or frosted, depending on the desired effect with edges straight or curved.
c. Customized Colors & Sizes – Glass Signages or signs are available in different sizes and shades of color, thereby providing various color contrasts to choose from.
They can be used in various sectors of businesses and serve different purposes; such as directional sign, number signs, reception signages, shading, restroom signages and lots more.
Create an aesthetically pleasing, experiential interior environment so your employees, partners and clients will take the time to better appreciate and engage with your brand.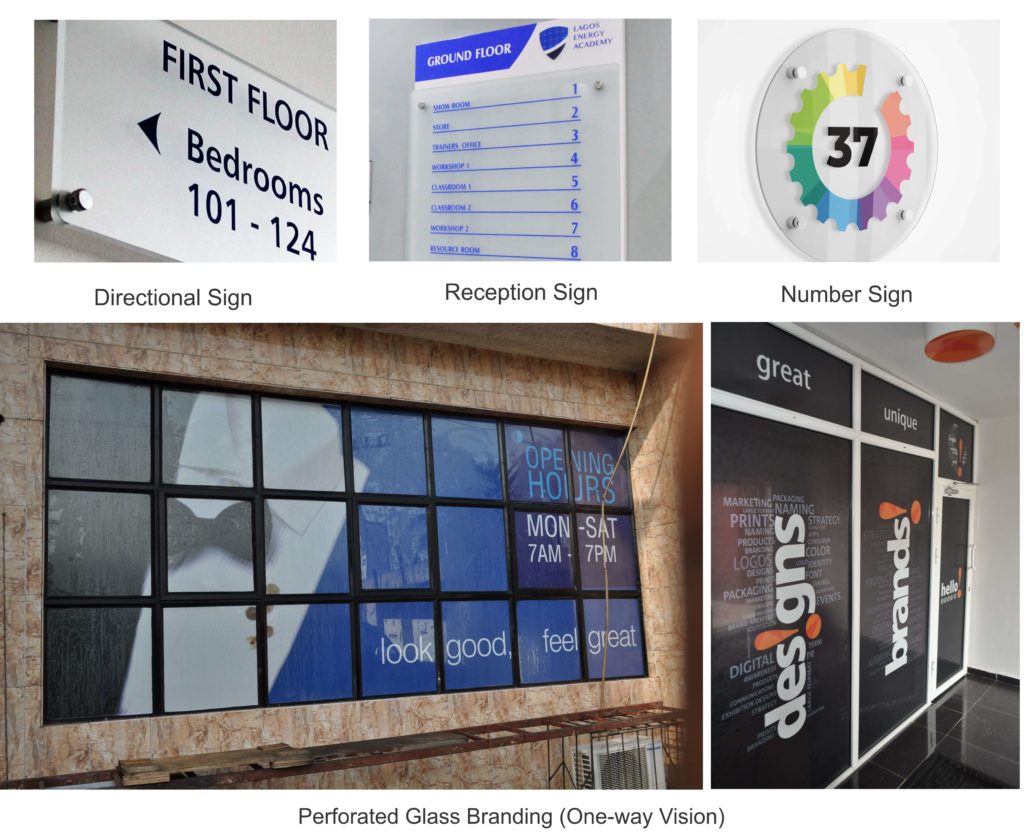 BONUS READ
Here are links to finding solutions for some FAQ's on Branding Displays
LEARN MORE
Kindly contact us if you need a more information on our custom made Glass signages and need to express your brands in more creative ways in your office environment.
Call or Whatsapp to speak with a customer representative: +2348175169736 /+2349056871858 / +2347038345937
Follow our social media accounts: Instagram: @printfactoryng Twitter: @printfactoryng Facebook: @Printfactoryng