Hello everyone,
I believe we are all doing great and staying safe. Am here to talk about customized T-shirts that is sure to win you customers. Like some would call it Tees or regular T-shirt. What ever the case may be, do you know that it's another means of advertising your brand or business? It's also another way of creating great awareness for your business. Below are some key strategies to a winning branded T-shirt.


Right colour choice of t-shirt: Color is the most important aspect of any branding. To achieve the right color, you must bear in mind that whatever color you choose must suit your brand and also blend with your brand color(s). There are two universal primary colours that can go with any brand colour when it relates with branding and that is White and Black. For help on choosing the right color of t-shirt visit printfactory.com.ng

2. Right fabric choice: Here you must consider the texture and durability of the fabric. Whether it is cotton, jersey, polyester, linen or spandex the material should be friendly to the skin, breathable (can absorb sweat), and long lasting. Do you need a customized t-shirt visit printfactory.com.ng

3. Choosing the right design: Aside from choosing the right colour of t-shirt and material, you also need to look at the design on the t-shirt. Looking out for the design is very important. The design has to do with the front, shapes, and colors of front, logo and the patterns.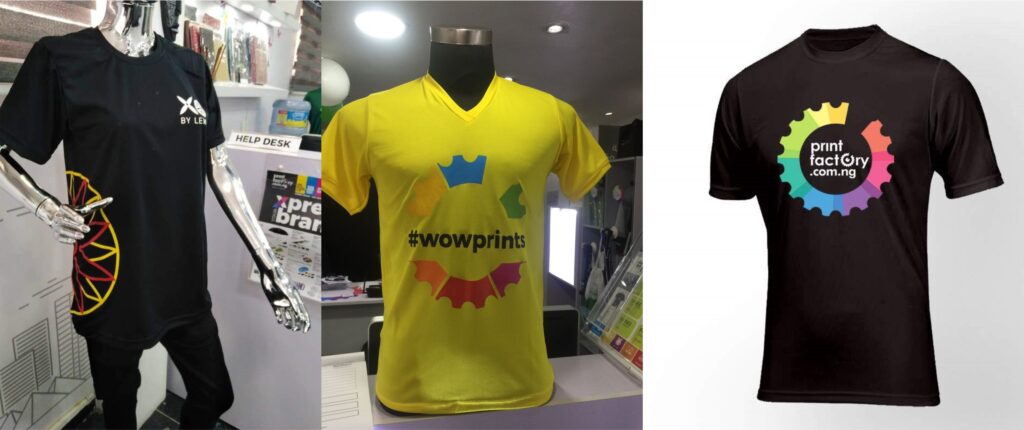 4. The right sizes: it is always advisable to have the right size when it comes to clothing t-shirt is not an exemption. When a branded t-shirt is well tailored to fit size it shows smartness at a glance and this will in turn show the beauty of the fit and the brand print on it. Do you have issues getting the right sizes we are just a call away or visit printfactory.com.ng

5. The right location: Locationis key. When we are talking about getting attractions from branded t-shirts. Ensuring that everyone is wearing your branded t-shirt at strategical positions like (a) wearing it from home to work and back home. (b) Wearing it among public areas (like in the bank, market, church, mall etc.) this will single the brand out. (c) When doing a group marketing/awareness or corporate visitation.Visit printfactory.com.ng

Lastly, this is another way of advertising your brand and still staying in the face of the public. When you are all geared up with your complete outfit, all attention will be on you and people will like to know more about your brand. To have a single outfit or a complete gear, visit printfactory.com.ng
---
Do you want to Design Your Own Unique T-shirts ?
We are just a click away: printfactory.com.ng

Call/WhatsApp us today: +234 905 687 1858 | +234 817 516 9736

Lets help you Create custom T-shirts with unique design and prints at pocket friendly prices.

Follow our social media accounts:
Instagram: @printfactoryng
Twitter: @printfactoryng
Facebook: @Printfactoryng